This is the ordering website for Cedar Run Farm.
320 John Powell Road, Sudlersville, MD 21668

Cedar Run Farm is a family owned business run by Marilyn and Lew Dodd.  The Dodd family can trace its farming roots in Queen Anne's County back to the Revolutionary War times.   Our current farm in Sudlersville was purchased in 1951 and our family moved in January 1, 1952, when Lew was 11 months old.  We've been here ever since, providing healthy food for our family and our community, while preserving the natural beauty of the land.  We farm on 92 acres, plus we cut hay from other nearby rented farms.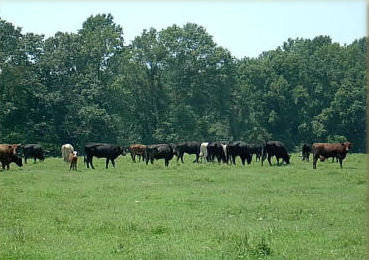 Our Animals:  We raise our own beef cattle and sell USDA inspected, naturally fed, dry aged beef to retail customers, neighbors and friends.
Our beeves are raised in fresh air, on native pasture, with salt, minerals and fresh water. They are also finished on pasture (grass fed & finished) to give our beef a rich flavor, plus health benefits that can't be found in feedlot, supermarket meat. We do not use growth hormones, growth stimulants, artificial or antibiotic feed additives.  Our cattle eat grass, as nature intended, and live a great life.
We also raise hogs, meat chickens and egg layers, and turkeys.  Please click the Additional Information link to learn more about our natural and environmentally friendly farming practices.

NOTE: See our special on Bar-B-Que pigs in our Bulk Order section to the left!
Farm Pickup
You can order from our inventory at any time if you want to come to the farm to pickup your order.  Just place your order and we'll contact you to arrange a pickup time.  Generally speaking, we're available Monday through Friday 8AM to 6PM and Saturday 8AM to 5 PM.  We do offer free local delivery for orders of $250 or more.
Neighborhood Delivery
If you live or work in Annapolis, Stevensville, Cambridge, Centreville or Easton and want us to deliver your order, you must order when the "ordering window" is open for your neighborhood.  You can see the ordering and delivery schedule by clicking the Delivery Options link above.
NOTE: Please click to the Additional Information/Ordering Details page to learn about how our Neighborhood Delivery system works.  
Product Availability
To see the products we have available at this moment, simply click on any product categories to the left.  Quantities are limited to what you see.  As orders are placed, the quantities go down instantly.  We update the inventory as new foods become available. 
There is no minimum order size.  You can order anything you see listed.
Naturally, our inventory is changing all the time, and our supply of certain cuts is limited by nature's design of animals.  They aren't all steaks and breasts!  We need to market all the parts, and everything we sell has healthy and tasty applications.  It's all in knowing what to do with them.
Note that many products are priced by weight, so the exact pricing will not be known until we select the actual items that will fulfill your order.  We are not a factory who cuts to order.   However, the shopping cart will show the approximate total cost for each item.  When the order is placed, you will receive an immediate confirmation email with a copy of your order, including the approximate pricing.  When your order is completed you will receive an email with the exact cost of your order.
We Appreciate Your Business
We work hard to provide healthy, wholesome products to our customers in the region.  You won't find meat products like ours in your local grocery store.  Their meats are from an industrial farming system that abuses the environment, the animals, and ultimately, your health.  Our meats are raised in a way that's evnironmentally sustainable, truly humane, and naturally healthy. 
Please order from us in the knowledge that you are doing the right thing for your family, your region, and our small family business.  Let's build a better future together.
Note:  This site can also be reached by using the address of www.cedarruncattle.com